Jack Wilson is a HERO! His actions in church on Sunday saved countless lives.
Here is the entire interview with Jack Wilson.
From the article linked above:
The man who jumped into action when a gunman opened fire on worshipers during a church service in Texas said Monday he was placed in a position he didn't want to be in, but had to react because "evil exists."
Two men were killed when the gunman opened fire at West Freeway Church of Christ in White Settlement on Sunday morning, as more than 240 parishioners were inside. Within seconds, he was shot to death by two congregants who fired back.
Jack Wilson, a Hood County resident running for commissioner for the 3rd Precinct who is the head of the church's security team and a firearms instructor, shared some details on his campaign's Facebook page as he gave thanks to "all who have sent their prayers and comments on the events of today."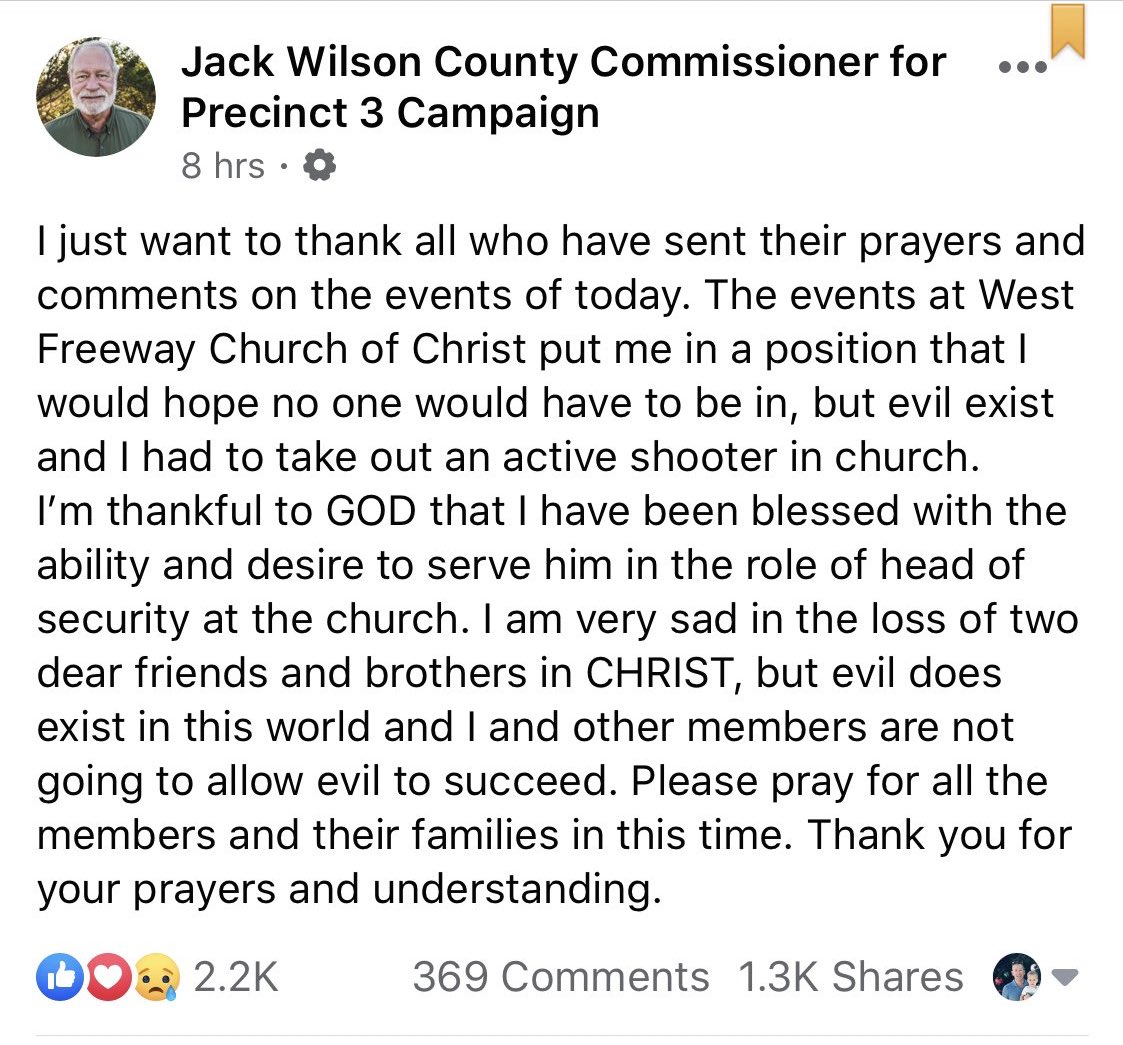 I was so happy to see our President's tweet.
The Economic Train is closing out 2019 in epic fashion!
From the article linked above:
The National Association of Realtors (NAR) Pending Home Sales Index (PHSI) rebounded in November, rising 1.2% from October to 108.5. Year-over-year contract signings jumped 7.4%.
The PHSI stood at 106.7 in October and was expected to gain slightly less than the reading. Forecasts ranged from a low of 0.0% to a high of 1.5%. The consensus was looking for a gain of 1.1%.
An index of 100 is equal to the level of contract activity in 2001.
From the article linked above:
The U.S. trade in goods deficit unexpectedly narrowed to $63.2 billion in November, down 5.4% or $3.6 billion from $66.8 billion in October. Exports of goods were up $0.9 billion to $136.4 billion, while imports of goods were down $2.7 billion to $199.6 billion.
Forecasts ranged from a low of $-70.0 billion to a high of $-65.0 billion. The consensus forecast was calling for a widening to $-69.5 billion.
In October, the overall U.S. trade deficit—or, the balance for goods and services—narrowed to only $47.2 billion. Depending on services for November, the decline in the goods deficit could provide a boost to quarterly gross domestic product (GDP).
The Assassin, Peter Navarro, appeared on Fox News to discusses the state of the U.S. economy heading into 2020. Sandra Smith and her sidekick try their hardest to inject BS into the discussion. Problem for them is that the Assassin was prepared for it.
Main Street workers are confident; wages continue to increase; inflation is low –  employment is high, consumer spending is strong and the future looks bright.
The military air strikes sent a clear message to the Iranian government. When you play stupid games, you will win stupid prizes.
Secretary of State Mike Pompeo appeared on Fox and Friends yesterday morning to discuss several topics. One key topic was Sunday's U.S. military strikes in Syria and Iraq.
The MSM, Democrats, Leftists, Never Trumpers etc. lost their minds on Sunday when they found out that President Putin called our President to thank him for information we provided that helped foil a potential terrorist attack in Russia.
https://publicpool.kinja.com/subject-out-of-town-pool-report-3-putin-call-readout-1840724909
From the link above:
"Yesterday, President Vladimir Putin of Russia called President Donald J. Trump to thank him for information the United States provided that helped foil a potential holiday terrorist attack in Russia.
Both Presidents committed to continuing counterterrorism cooperation between the two countries. The Presidents also discussed the state of relations between the United States and Russia and future efforts to support effective arms control."
Our President's next rally will be taking place on Tuesday, January 14th in Milwaukee, Wisconsin.
Our President decided to have it on the same day that the Democrats will have their debate in Iowa.
From the article linked above:
President Trump's 2020 reelection campaign announced Monday that it will hold a rally in Wisconsin on Jan. 14 – the same evening that Democrats gather in the early caucus state of Iowa for the first presidential primary debate of the new year.
Trump will appear at the rally at the UW-Milwaukee Panther Arena in Wisconsin, a state that played a crucial role in his election 2016.
"President Trump has delivered for Wisconsin creating 37,400 new jobs, including 4,900 new manufacturing jobs and 13,800 new construction jobs," Michael Glassner, the chief operating officer of Donald J. Trump for President, Inc., said in a statement. "President Trump looks forward to returning to the Badger State to celebrate his message of 'Promises Made, Promises Kept.'"
Kayleigh shares what I have been saying for the past two months. Independents will decide the next election and they are NOT happy with the impeachment hoax!
Our President is only getting stronger!
From the article linked above:
Voter approval of President Trump has hit 50%, the magical and much-needed baselevel for reelection, and he is leading the top Democratic presidential candidates in the 2020 presidential race, according to a new national survey.
In the latest Zogby Analytics survey shared with Secrets, Trump is above water on his approvals, 50% positive to 48% negative, a key level his political team has been pushing to get him to.
What's more, he is building support with independents, Hispanics, and women, according to pollster Jonathan Zogby.
That, added with Trump's 51% support with millennials and 56% support with Generation X, has helped to give him an edge over the top five Democratic candidates fighting it out in Iowa.
That 51% with Millennials absolutely includes Generation Z within it!
Democrats have a Generation Z problem that will only get worse over the next decade as more and more reach voting age.
From the article linked above:
As I visit with college students across the country, I am struck by how informed and educated they are about their rights. We may be young and inexperienced, but we know what's going on around the world. In Hong Kong and Venezuela, we watch governments oppress their unarmed citizens. In our own country, we watch as state and local politicians exploit tragedies to pass more gun control laws. We watch New York billionaire Michael Bloomberg buy his way into power and influence across the country.
We see that overnight in Virginia, thousands of law-abiding gun owners will become felons for simply owning American's most popular all-purpose rifle, the AR-15. Gun control advocates like to call it an "assault rifle" because it sounds scary. But they can't even define what it is. Gov. Ralph Northam would criminalize law-abiding gun owners who don't first seek government permission to loan a handgun to a close friend for self-protection, or share a shotgun with a buddy while hunting. Under Northam's gun control schemes, families would be forced to store firearms according to strict government mandates that may leave them vulnerable.